DETROIT ASSURANCE WITH ABA 5 SUITE OF SAFETY SYSTEMS
THE ULTIMATE IN SAFETY AND DRIVER COMFORT ON THE ROAD
Customers count on your fleet to deliver. The Detroit Assurance® Suite of Safety Systems is designed to help you do just that – and more. Get ready for next-level driver comfort and the latest in automated safety with our collision mitigation system for trucks.
ACTIVE SPEED INTERVENTION
A system that helps drivers remain within the speed limit and adopt safe driving habits, Active Speed Intervention (ASI) works with Detroit's Traffic Sign Display feature to issue a passive alert when a driver starts to speed. These alerts are followed by an active warning, de-throttling and adaptive cruise control adjustment, if necessary.
SIDE GUARD ASSIST
Side Guard Assist (SGA) alerts drivers of objects in their passenger-side blind spots. As a passive collision mitigation system, SGA won't de-throttle or stop your vehicle. Instead, it keeps the driver in control. If the truck's passenger side gets too close to a moving person or object, the system will warn the driver not to complete the right turn or make a right-hand lane change.
ACTIVE SIDE GUARD ASSIST
Active Side Guard Assist (ASGA) takes safety a step further. This industry-first technology engages at urban speeds (less than 12 mph) to prevent a truck from making a right turn into a moving cyclist or pedestrian.
ACTIVE BRAKE ASSIST 5
Active Brake Assist (ABA 5) mitigates potential collisions by calculating truck speed and distance to other vehicles. This determines if a warning or braking action is needed.
Full Braking on Moving Pedestrian can detect a person who is about to walk into the truck's path. It issues audio and visual warnings with simultaneous partial braking first, followed by full braking if the driver does not react.
Full Braking on Moving and Stationary Vehicles can identify moving or stationary vehicles in the truck's path. When the system detects a potential obstacle, it issues audio and visual warnings. Depending on the situation, partial and full braking may activate as well.
BRAKE HOLD MODE
Brake Hold Mode allows a driver to remove their foot from the brake pedal and keep their vehicle at a stop when sitting in stand-still traffic, at a weigh scale or a loading dock. Beyond the added comfort of removing your foot from the brake, this technology improves safety by preventing brakes from deactivating if the driver's foot slips from the pedal while the truck is at rest.
ADAPTIVE CRUISE CONTROL TO 0 MPH
Adaptive Cruise Control (ACC) to 0 MPH automatically adjusts a truck's cruising speed to maintain a safe following distance from other vehicles. With the ability to remain in cruise control longer, drivers experience less fatigue throughout the day, keeping them more alert.
ACC works in stop-and-go traffic, too. When the vehicle in front of your truck begins to slow, even to a stop, your truck will stop and hold its brakes. If the stop is less than two seconds, you will start moving again once the vehicle in front of you moves. For stops longer than two seconds, the driver can easily resume motion by engaging the throttle or pushing set/resume.
ACTIVE LANE ASSIST
With the help of fused camera and radar technology, Active Lane Assist (ALA) keeps drivers safe and comfortable on the road. ALA features improve low-speed maneuverability, reduce road vibrations and increase ease of steering via micro-adjustments.
Lane Keep Assist (LKA) identifies lane markers and helps the driver keep their vehicle centered in its lane.
Lane Departure Protection (LDP) detects when the truck is drifting out of its lane and actively steers it back on course.
Lane Keep Assist with Auto Stop helps protect the driver and surrounding traffic in the unlikely event that the driver becomes incapacitated. The technology will actively bring the truck to a stop while keeping it in its lane.
ADDITIONAL FEATURES
Detroit Assurance offers additional features that make the driving experience even safer and more enjoyable.
Spec'ing with Safety Technology
Some Assurance features come standard on all Freightliner® and Western Star® trucks. Others are optional or require pairing with a specific Detroit engine and transmission.
To learn more about your vehicle's standard and optional features, please click the chart below to download.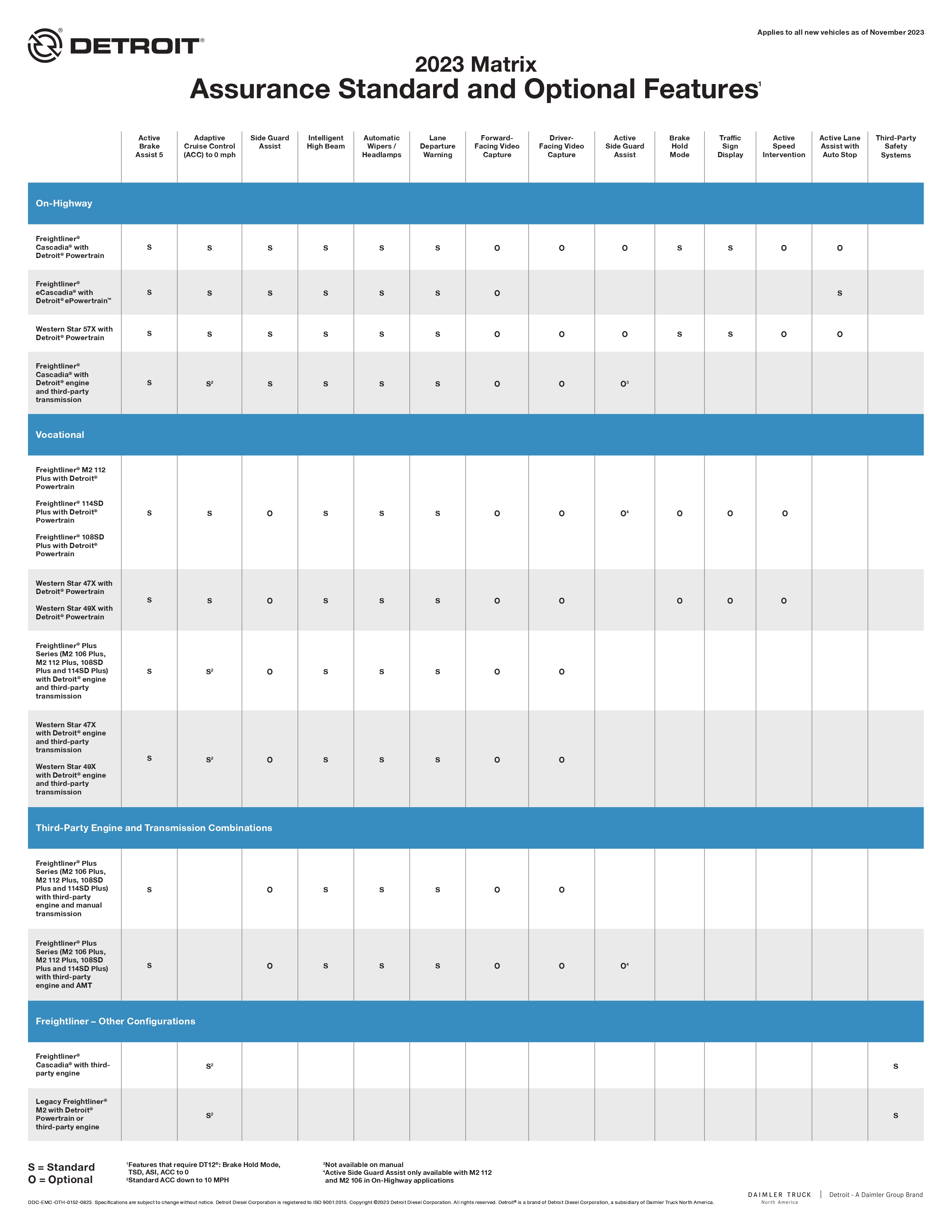 Standard:
Intelligent High Beam automatically switches a truck's headlights from high to low beams when the system detects environmental light from cities or another vehicle's headlights or taillights. Once the vehicle or city lights are out of sight, high beams switch back on.
Automatic Wipers/Headlamps turn wipers and headlights on or off to match weather and lighting conditions. Wiper and headlight controls must be set to auto for this to work.
Tailgate Warning issues visible alerts on the dash as well as sounds when the truck's following distance is too short in relation to its speed for 10 seconds or longer. Once activated, Tailgate Warning will deactivate only when the truck reduces its speed to less than 20 miles per hour. Remaining in Tailgate Warning mode for 10 seconds or longer will make the event reportable to the selected telematics system.
Lane Departure Warning issues audio and visual alerts when a truck crosses lane markers without using a turn signal.
Traffic Sign Display uses a camera to read speed limit and other traffic signs. From here, the system conveniently displays relevant sign information in the instrument cluster.
Standard Features
Optional:
Forward-Facing Video Capture utilizes a truck's front-facing camera to record the vehicle's activity before, during and after severe traffic events. This technology provides fleets better insight into what occurs during crashes so they're easier to prevent in the future. Forward-Facing Video Capture footage can be accessed via web portal, along with accompanying data and vehicle parameters.
The Driver-Facing Camera captures video footage of drivers before, during and after severe traffic events. This footage, along with other vehicle parameter data, is transmitted via web portal to provide fleet operations and safety personnel better insight into driver reactions during events.
Optional Features
Model Options

Freightliner

Western Star
Brochures