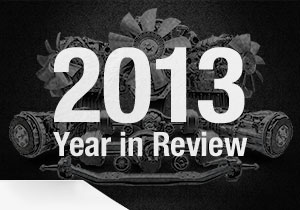 It was an amazing year for Detroit™, full of milestones, events and revolutionary new products.
Here are some of the highlights:
On March 6, we marked our 75-year anniversary. On that day in 1938, the first Detroit™ engine came off the line. To celebrate this milestone, we spent the next six months rolling out a series of commemorative events and activities, including: an interactive historical timeline at our MATS booth, a retrospective video, an employee appreciation day and the unveiling of our 75th anniversary logo.
Later in March, Heavy Duty Trucking magazine awarded the Detroit DT12™ automated manual transmission one of its '13 Top 20 Products awards.
In April, we connected with thousands of NASCAR® fans, including truck drivers, owners, technicians' and owner-operators, who stopped by the Detroit Experience Show Trailer at the Martinsville Speedway in Ridgeway, Virginia.
In June, we wrote about how the new Detroit™ rear truck axles are designed to stand apart from the competition. With an integrated one-piece differential eliminating the need for a head bearing, our rear axles allow for a larger main differential and greater stability and durability.
Throughout July and August, we took an in-depth look at the Detroit engineering, manufacturing and testing processes. We discussed the Engineering Lab, the Pilot Center, the Performance Hot Test, and the HDE Assembly Line – demonstrating how Detroit builds quality into every engine that bears the Detroit name.
Also in August, we revealed that the DT12 transmission, which is currently available with all Cascadia Evolution running the DD15® engine, will soon to be available in Cascadia's with the DD13® engine.
In September and October, we showed how the new DD13 and DD15 engines, with their new and improved features, are redefining the road.
Finally, in November, we discussed how Virtual Technician™, the Onboard Diagnostic System from Detroit, is nothing short of an industry game-changer. It saves fleet or truck owners time and money by giving them the peace of mind necessary to keep their business running smoothly day in and day out.
As you can see, it was a big year for Detroit. As we look back, we are grateful for the support we received from our wonderful network of dealers, customers, parts and service technicians, employees and community leaders. Thanks! We couldn't have done it without you!