The new Optimized Cylinder Kit Design reduces friction and oil consumption, leading to improved durability and fuel economy. It is one of the big contributing factors to the DD15 engine meeting 2013 OBD (OBD13) and 2014 Greenhouse Gas (GHG14) regulations.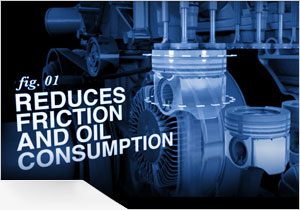 There are several features of the cylinder kit that deliver huge benefits to customers. First, a new piston with improved skirt coating reduces wear and friction between the piston and liner to improve overall fuel economy. The kit also introduces a new oil ring with reduced tension and contact pressure—minimizing wear, and improving fuel economy and engine durability. Detroit engineers have also changed the design and dimensions of the oil ring to improve conformability to the liner wall in order to lower oil consumption.
Finally, the kit boasts an updated cylinder liner with carbon scraper ring to:
Remove carbon deposits on the piston above the top ring, which guarantees consistent engine performance and oil consumption.
Minimize crevice volume between the piston and liner near the top dead center to allow for a cleaner combustion.
Lower the amount of emissions that the DOC and DPF have to handle—ultimately leading to less regeneration, lower fuel consumption, and extended engine durability.
 As you can see, the work Detroit engineers have done to optimize the new cylinder kit design has lead to reduced friction and oil consumption as well as improved durability and fuel economy. Check back here next week when our focus will shift to the features and benefits of the DD13 engine. Remember, we want this blog to be an engine for conversation—so feel free to comment on our posts.