As we continue our exploration of the new and improved DD15® engine, we wanted to dedicate a whole post to the new Proprietary Asymmetric Turbocharger, which is a huge contributing factor to the overall reliability, durability, and performance of the engine. The Turbocharger offers reduced weight and complexity to deliver improved performance over other non-variable turbo designs.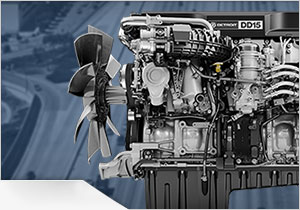 As I said, this system is less complex than variable geometry turbo. We've streamlined the design of the turbocharger for reduced weight and even greater efficiency. Material benchmarking and in-house sourcing help deliver a more durable, reliable product.
Finally, this patented in-house design is more optimally matched to the Exhaust Gas Recirculation (EGR) system, giving you the best real-world fuel consumption and performance without sacrificing any of the performance you've come to expect from the DD15.
As I mentioned in my last post, we see this blog as an opportunity to provide you with in-depth information on our complete product line. As the only manufacturer in the world to build a complete heavy-duty powertrain under one roof, we have a lot of information to share about our designs, standards, and performance. We also want this blog to spark a conversation with you—so please feel welcome to ask questions or make comments. And check back here next week when we'll be discussing the Optimized Piston design.