Automated safety technology isn't just important for protecting drivers on the highway. It's essential for keeping vocational operations running smoothly, too. Here's why the latest automated safety technology, like the Detroit Assurance® with ABA 5 Suite of Safety Systems, is key to helping you work smart.
THREE REASONS TO TAKE SAFETY UP A NOTCH
Protect your workers
Ensuring workers' safety, and that of the public, is essential for business. Fortunately, automated safety technology can help. With fused radar and camera technology that works in the background, Detroit Assurance can quickly detect obstacles and mitigate collisions, even in trucks driven by the most skilled operators.
Safeguard your bottom line
Besides protecting workers, automated safety technology is purpose-built to protect your business. When safety is automatic, it's easier to mitigate costly incidents and maximize uptime, so your operation can keep working strong.
Prepare for regulations
In the world of trucks, regulations are essential. And as with emissions and roll stability, they may soon be coming to the world of safety. In fact, there are plans in a few countries to require automated safety systems on commercial trucks. If you don't pay attention, you could easily find yourself unprepared. However, if you've already started learning about safety systems for your vocational trucks, you'll be ready for what's next.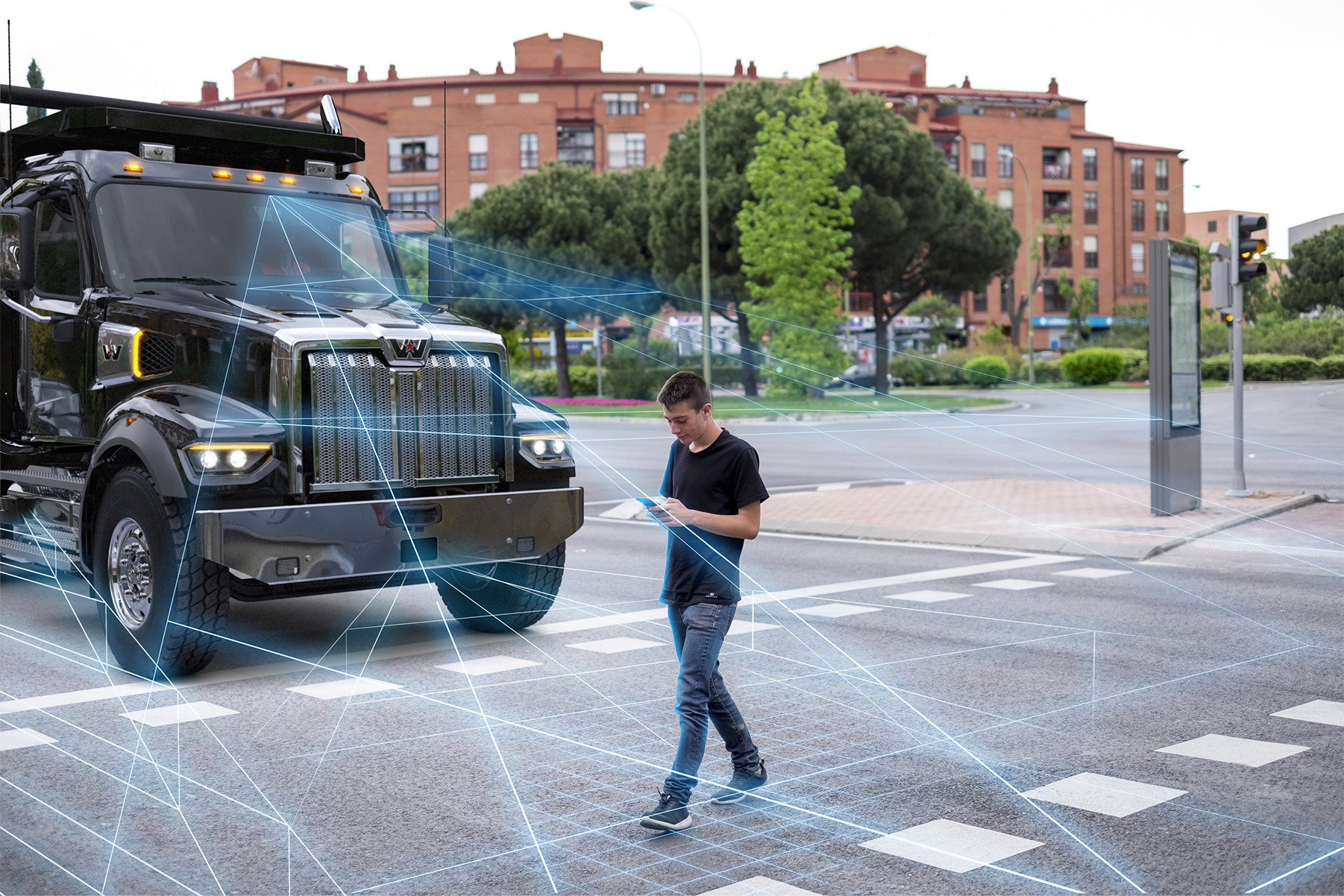 DETROIT ASSURANCE: THREE KEY VOCATIONAL FEATURES
Detroit Assurance has everything you need to enhance safety, whether you're at the worksite or on the road between jobs.
Active Brake Assist 5: Forward-facing protection on and off the worksite
When it comes to safety, you can't let your guard down while you're on the road or traveling between sites. Fortunately, Active Brake Assist 5 can mitigate collisions with other vehicles as well as moving or stopped pedestrians by tracking objects in front of your truck and determining if a warning, partial braking or full braking is necessary.
Adaptive Cruise Control to 0 MPH: For easy, safe driving between sites
Whether you're moving dump trucks across town or driving heavy haul semi trucks on the highway, Adaptive Cruise Control to 0 MPH keeps tabs on what's ahead. Available on Freightliner trucks with the Detroit® DT12® transmission, it automatically adjusts cruising speed to maintain a safe following distance, even in stop-and-go traffic. With Adaptive Cruise Control to 0 MPH, traveling from A to B is smarter – and safer.
Side Guard Assist: Technology that has your back – and your side
You can't replace a skilled operator, but smart safety technology can make that operator even better. Side Guard Assist uses two short-range radar sensors to detect moving objects and pedestrians along the passenger side of the truck.
As part of Side Guard Assist, the Turn Assist feature help mitigate collisions in urban settings. At faster speeds, Lane Change Assist issues a warning if you start to drift into an occupied lane.
Ready to take safety to a higher level? Learn more about Detroit Assurance for vocational applications.
Detroit Assurance: Now standard on medium-duty Freightliner trucks
While we wait for enhanced safety to come to the entire commercial transportation industry, we're bringing it to the latest Freightliner trucks today. Detroit Assurance now comes standard on all Plus-series trucks with Detroit® engines – and, for the first time, a medium-duty model – making exceptional safety and productivity more accessible than ever.
Dedicated training and support for Assurance – and beyond
We want to make your transition to automated safety technology simple and seamless. That's why we'll spend time with you before, during or after the sale to answer your questions about Assurance – and so much more.
Of course, even if you're not ready to spec a new truck, or go all-in on Assurance, one thing is for sure: We have your back. Our experts can answer your questions and show you the way to what's next.