The DT12™ Automated Manual Transmission is driving the evolution of powertrain technology with its cutting-edge design and functionality. And we're excited to say that the addition of this transmission to our product line, which already features engines and axles, makes Detroit the only manufacturer in the world to build a complete heavy-duty powertrain under one roof.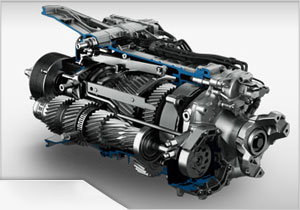 Running a profitable hauling business is all about fuel economy and low cost of ownership. Detroit understands this and has made it our mission to provide the best value possible in these areas. The DT12 eCoast feature boosts your overall fuel economy by automatically disengaging the engine and fueling only at 600 RPMs when your truck is coasting. Another feature of the automated shifting system is the ability to 'skip shift,' which maximizes fuel economy by getting and get into the highest gear faster. Henry Albert, a trucker since 1983 and Overdrive's 2007 Trucker of the Year, says that once you embrace it, "the DT12 is like Formula 1® technology—it can improve your fuel economy in ways you never thought possible. And like F1®, the best driver still always wins."
One of the many ways the DT12 reduces your total cost of ownership is through its Active Driveline Protection, which enhances driving comfort and reduces driveline wear. The Transmission Control Module (TCM) calculates the torque windup in the driveline and regulates with engine torque control.
The DT12 is currently available with all Cascadia Evolution trucks running the DD15® engine and will soon to be available in those with the DD13® engine as well. This engine and transmission combo is special because, being built by the same manufacturer under the same roof, their electronics speak to each other. In other situations, the engine comes from one supplier and the transmission comes from another, meaning they don't share all the same technology. "My DT12 transmission works seamlessly with my DD15 engine," Henry Albert explains. "Together, they are the complete display of awesome!" A few months ago, Henry hit the ever-elusive 10 miles per gallon mark with his DD15 and DT12 combo. You can read more about his legendary run from Lafeyette to Loredo to Meridian on the Freightliner® Team Run Smart™ blog. 
When you bring up automated transmissions, some drivers are concerned that the more automation a truck has, the less control they have over their performance. Once you embrace the technology, however, the Automated Manual Transmission actually gives you more control and freedom than a traditional clutch-driven manual transmission. The automated controls are easily manipulated to customize your experience. In fact, you can actually switch back and forth between automatic and manual. And it's important to remember that in automatic mode, the shifts are strategically made based on the load, grade and driver stimulus (how often you hit brakes and accelerator). There are over 3,000 shift strategies for thousands of different situations.
Safety is another big concern for both fleet owners and truck owner/operators. The engineers at Detroit spent a lot of time thinking about that when they designed the DT12 transmission. Because you aren't using your right arm to shift, you are free to have that hand on the wheel. Because you don't have to ever look at your RPM's, your eyes are free to be looking down the road. And when it's in cruise mode, the DT12 makes all the decisions an experienced driver would make, instantaneously—freeing up your mind to be aware of your surroundings. Therefore, as a driver, you can actually fulfill that old maxim: "two hands on the wheel, two eyes on the road."
We understand that your profitability depends on boosting fuel economy and increasing durability. Our engineers have built sturdy components and designed the DT12's operation to limit unnecessary wear and tear. Detroit offers outstanding parts availability, with expedited parts and service for critical downtime situations. And to top it all off, our transmissions come with a 5-year/750,000 mile standard warranty. Try one out today and see for yourself. As Henry Albert puts it, the DT12 allows you to "demand it all, all over again."