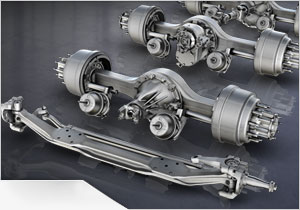 From navigating steep grades to fitting into tight spots, we understand the demands you put on your truck and we're committed to equipping you with axles that provide the support and maneuverability you need to drive your business. With innovative needle-bearing design, precision-cut gears and robust differentials, Detroit™ axles lead the market in durability and performance. They also deliver serious money-saving benefits, such as:
Low maintenance costs for improved cost of ownership.
Rock-solid reliability and durability to minimize downtime.
Produced in the same Detroit, Michigan factory as our legendary engines, our front-steer, single-rear and tandem-rear axles are a proven platform on trucks worldwide.
And we make axles that cover every trucking segment, with steer axle weight ratings from 6,000 to 20,000 pounds and rear axle weight ratings from 13,000 to 46,000 pounds. We're also proud that our axles are compatible with the braking systems offered by all Freightliner, Western Star, Thomas Built and Freightliner Custom Chassis Corporation (FCCC).
Front Steer Axles
Detroit front-steer axles deliver strength, performance, reliability and increased payload capacity you can count on. Here are some of the features:
A wheel cut up to 55 degrees.
Low weight for more hauling.
Needle-bearings that roll.
An available twin-steer application for Severe Duty trucks.
Single Rear Axles
Detroit rear-drive axles are easy to maintain, increasing your uptime and reducing your overall costs. Here are a few of the features:
Higher torque applications.
Quieter operation.
Increased payload capacity.
Tandem Rear Axles
Several innovations make Detroit tandem rear axles the best in the industry:
A larger and stronger differential created by eliminating the pinion head bearing.
Extended gear life and reduced costs from an oil deflector that fully lubricates the power divider.
Reduced driveline vibrations and increased longevity from a topoid offset.
Support
Detroit axles are backed by one of the largest parts and service networks in the industry. We are committed to providing customers with parts and service support, adding flexibility, reducing cost and increasing uptime for your business.