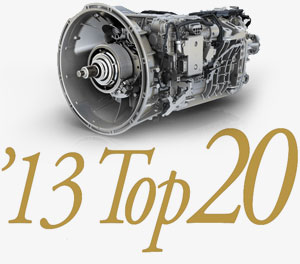 We're excited to announce Heavy Duty Trucking magazine has given the Detroit DT12 automated manual transmission its '13 Top 20 Products awards.
As the trucking industry experiences a driver shortage, our engineers designed the new DT12 to make it easy for every driver to maximize their efficiency and stay safe. With the DT12, all drivers can get the performance and efficiency benefits of a manual transmission without having to shift. Detroit Product Manager, Tim Norton, says the new DT12 with its steering column-mounted shifter, "gives drivers more time to focus on the road instead of working the clutch and figuring out when to shift." Add in the advanced electronics of the DT12 and our engineers expect overall fuel efficiency averages to increase.
HDT's editors, their 2012 Truck Fleet Innovators and a panel of five veteran fleet maintenance professionals from the ATA's Technology & Maintenance Council chose this year's Best of the Best products. Look for the DT12 in the February issue of HDT magazine. The Detroit DT12 joins the ranks of our previous winners: Virtual Technician (2012) and the Detroit™ DD15® engine (2008).