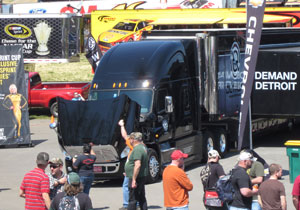 This past weekend, we connected with thousands of NASCAR® fans which included plenty of truck drivers, owners, technicians' and owner-operators who stopped by the Detroit Experience Show Trailer at the Martinsville Speedway in Ridgeway, Virginia. In addition to our legendary engines, it was the first opportunity for the general public to see the Demand It All tour of our new line of components, including Detroit™ front axles, rear axles, and transmissions.
Attendees who stepped inside the Detroit Experience Show Trailer could interact with a 55" touchscreen to watch how Detroit axles and engines are manufactured, and learn more about Detroit transmissions.
The Detroit Experience Trailer includes:
     • New GHG14 DD15® show engine
     • DT12™ automated manual transmission
     • Detroit front and rear tandem axle displays
     • iPads highlight key product features and benefits
     • Interactive Detroit Component Selector
     • Detroit engine and axle plant videos
     • Interactive Detroit video library
     • 75th anniversary commemorative information
The Show Trailer travels around the U.S. and Canada pulled by the new Freightliner Cascadia Evolution.
If you want to know when the Detroit Experience Show Trailer will be near you, subscribe to our email newsletter. We'll inform you of this, and other Detroit events happening across the U.S. and Canada all year long.