Just like any EV, electric semi trucks rely on batteries, electric powertrains and cutting-edge software to move them forward.
But have you ever thought about what powers an entire fleet of electric semi trucks? That takes something more. For Freightliner electric trucks like the eCascadia and eM2, there are two major Detroit components that help drive success: eConsulting and eFill charging stations.
eConsulting: Expertise That Gets You Started
Once you decide to go electric, expert knowledge and guidance are essential to get you moving. Our eConsultants are dedicated to helping you plan your electric infrastructure, understand the landscape of EV rebates and show you the way to maximum sustainability and profitability. Whether your electric needs are simple or complex, our eConsultants can deliver customized solutions that fit your business, all through a single point of contact.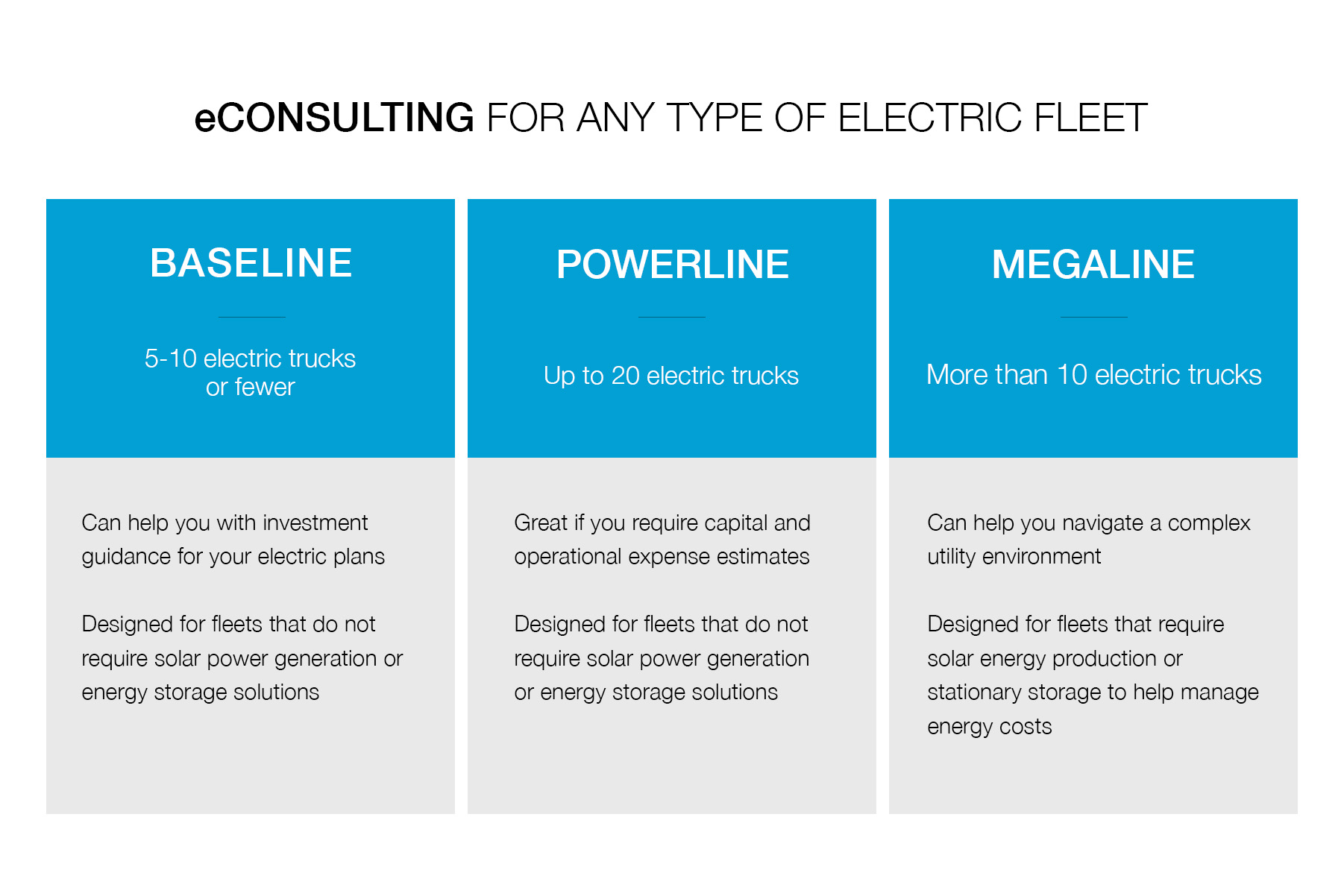 Three Customizable eConsulting Packages
Baseline
Our standard, complimentary eConsulting service is delivered to you by sales representatives at your local dealership. It's designed to provide a clear, concise introduction to the world of zero emissions, so you'll be prepared when you decide to move your electric plans forward.
The Baseline package includes:
A best practices document that fits your business
Charging hardware and construction cost estimates
Site layout recommendation
Powerline
Our enhanced consulting service is managed and delivered by Detroit's team of specialized eMobility experts. It is a customized consulting project that typically lasts about two months.
The Powerline package includes:
Cost estimates for charging hardware, operations (ten-year horizon) and construction
Route analysis
Energy rate recommendation
Site layout recommendation
Megaline
Our premium eConsulting offering is designed for larger deployments with more complex requirements. This four-month engagement offers everything in the Powerline package, plus several more specialized tools and reports.
The Megaline package includes:
Cost estimate and sizing for solar panels
Cost / incentive estimate and sizing for battery energy storage system (BESS)
3D renderings and vehicle tracking
Utility coordination
Construction planning document (CD30)
eFill Chargers: Technology That Keeps You Moving
The right charging technology is an essential piece of the electric puzzle. Whether you're a one-truck operation or a large-scale fleet, Detroit eFill charging stations provide all the power, reliability and simplicity you need to keep your fleet running strong.
eFill charging stations come in a range of models to fit any size or type of deployment. They're highly versatile, which means they work not only with Freightliner trucks, but a wide range of other truck brands. Additionally, they're scalable, so you can easily add more chargers as your fleet grows.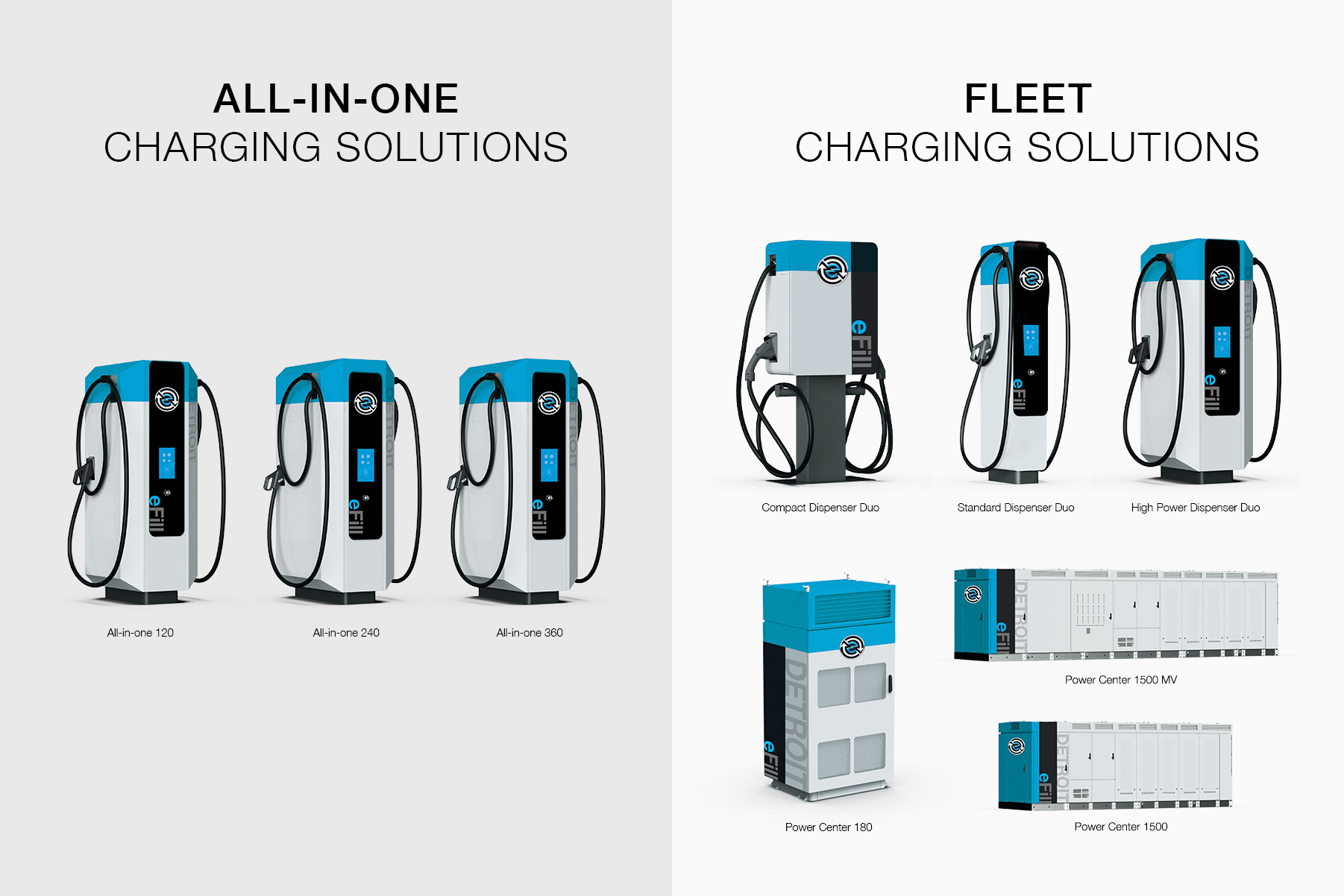 All-In-One EV Charging Stations
EV charging is a two-step process: converting your facility's power from AC to DC, and then dispensing that energy into your vehicles. Our all-in-one charging stations complete both processes within one free-standing unit, minimizing the overall construction impact to your site.
eFill All-In-One 120
Charges two vehicles simultaneously.
eFill All-In-One 240
Charges two vehicles simultaneously, or up to four with additional dispensers.
eFill All-In-One 360 (Coming Soon)
Our most powerful complete charging solution. It can charge two vehicles simultaneously, or up to four with additional dispensers.
Fleet Charging Stations
EV fleet charging solutions are designed to support larger fleets. They split the charging process into two components: a power cabinet and charging dispensers. This setup enables higher power thresholds and helps limit the equipment footprint in multi-charger configurations. We offer three dispenser models, all of which are supported by the eFill Power Center 180, 1500, or 1500 MV.
eFill Compact Dispenser Duo
Space-saving design
Streamlined user interface
Ideal for small-footprint depots
eFill Standard Dispenser Duo
Slim form factor
Detailed user interface
Delivers up to 300 amps of current
eFill High Power Dispenser Duo
High-power outputs for fast charging
Liquid-cooled cable
Delivers up to 500 amps of current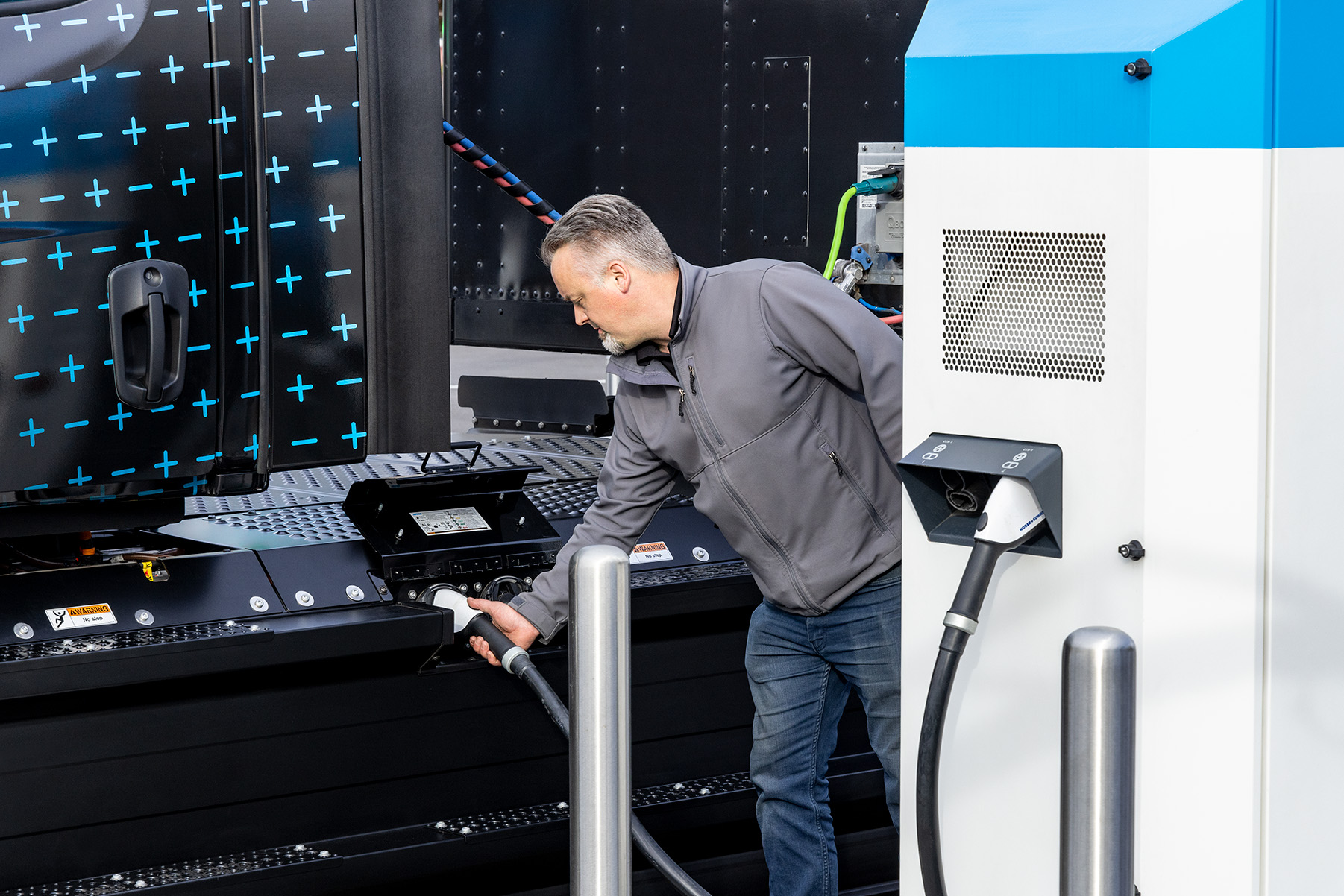 The Brains Behind The Power: The Charger Management System
If eFill charging stations are the power behind your electric truck fleet, the Detroit Charger Management System (CMS) is the brain that brings it all together. It makes charging even more intelligent by integrating charger and vehicle diagnostics seamlessly within the Detroit Connect portal. The CMS not only provides a detailed, 360-degree view of your fleet; it also enables smart charging features like vehicle preconditioning, staggered charging and strategic partial charging.
We Can Help Power Your Electric Truck Fleet
The right electric roadmap. The right charging technology. There's a lot more to an electric truck fleet than just trucks. Fortunately, we have everything you need.
Contact your nearest Detroit dealership and we'll help you get started.