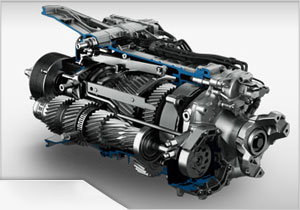 Already available with the Detroit™ DD15® and DD13® engines, the DT12™ transmission is now available in DD16®-equipped Freightliner Cascadia® sleeper and day cabs.
Together, this pairing is an ideal combination for customers with heavy and specialized hauling applications. The DD16 is a workhorse of an engine, and with the DT12, we are providing drivers more power up those tough hills, a smoother ride and better maneuverability.
After being in production for less than one year, DT12 has already been adopted by many fleets, which have made note of some of their preferred features, including:
Ease of use. With features like Skip Shift and Creep Mode, maneuvering through tight spaces and quickly accelerating and achieving cruising speed are easier than ever.
Strength. Even though it's one of the lightest transmissions in the industry, with a new dual plate clutch the DT12 can really haul.  This, along with Active Driveline Protection, will shoulder the load while protecting your components.
Driver acceptance. We're hearing from drivers that the DT12 is easy to operate, and contributes to a more comfortable ride. And we're hearing from fleet managers and owners that our driver-friendly features result in a more productive, safer and happier driver.
There's a lot to like about the DT12, and now together with the DD16, we're providing even more options to our customers.
Have you experienced the Detroit DT12 transmission yet? If not, contact a dealer for a test drive today.