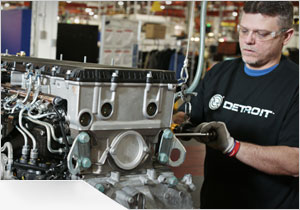 The HDE Assembly Line is the heartbeat of DetroitTM, producing the DD13®, DD15®, and DD16® engines for Freightliner, Western Star, and other non-captive brands. There are 280 employees on the line, distributed into 124 assemblers and 16 team leaders per shift. Our two biggest priorities here are safety and quality. The safety of our workforce is critical to ensure our assemblers stay healthy and work within our 2.4 minute cycle time, allowing our team to build 152 engines per shift at an 86% operating efficiency.
The assembly line itself is parceled into four zones. Zone 1, which is the 'short block' portion of the engine, is where the crankshaft, pistons, rods and main bearings are installed into the block. We then install the head and cam carrier and adjust the valve train. Several processes in Zone 1 are completed by highly-automated machines that take very specific measurements, ensuring the highest quality and consistency. Zone 2 starts with the gear train, begins assembling the fuel system and then installs the intake system. In Zone 3, the remainder of the fuel system and several exterior components are installed. Zone 4 is where the hot side of the engine is installed.
Quality is crafted into our process at every step throughout the build.  Each proud member of our team—from director to assembler—has standard work they must follow each day.  Our systems have many different ways of ensuring quality, including RF Clicker Wrenches and DC release requirements, data matrix code scanning of critical components for maximum traceability. This data is kept and used to make continuous improvements to our assembly processes.  Additionally, there are five quality gates strategically placed throughout the line where an operator validates previous work done, entering this data in through a tablet where information is categorized and problem-solving topics are assigned.  A cross-functional team meets weekly on the top issues to validate that problems are contained and resolved with finality. 
Process stability on the line is established through the previously mentioned standards as well as daily cadence meetings that occur between the team leaders and group leaders.  This open forum of communication allows problems to be identified and solved with a sense of urgency that could not take place otherwise. Key performance indicators relating to safety, quality, delivery, cost and morale are all tracked at the director, manager, group leader and team leader level.  Any metric that is not meeting target is addressed with focused problem solving activities.  These metrics and activities are all tracked on the shop floor and visible to all levels of the organization.
The HDE Assembly Line builds quality into every engine that bears the Detroit name. With best-in-class fuel economy and low-cost maintenance and service, our engines perform for a million miles and then some.