Want to go electric, but aren't sure where to start? We've got your back. There are two key ingredients that you need to build your electric vehicle fleet: the right truck charging stations, and a dedicated team of electric vehicle consultants to help integrate everything seamlessly into your operations. At Detroit, we can provide both – and we're with you every step of the way.
Partner with electric vehicle consultants who are 100% dedicated to you.
Once you start thinking about electrifying your fleet, there's no shortage of options. But choosing an established partner with the right expertise can cut your research time up front and help you save money down the road. Whether you have questions about right-sizing your infrastructure for an electric vehicle fleet, or you simply want to know about EV rebates, our comprehensive, 360-degree eConsulting services can help you find the electric solution that works best for you.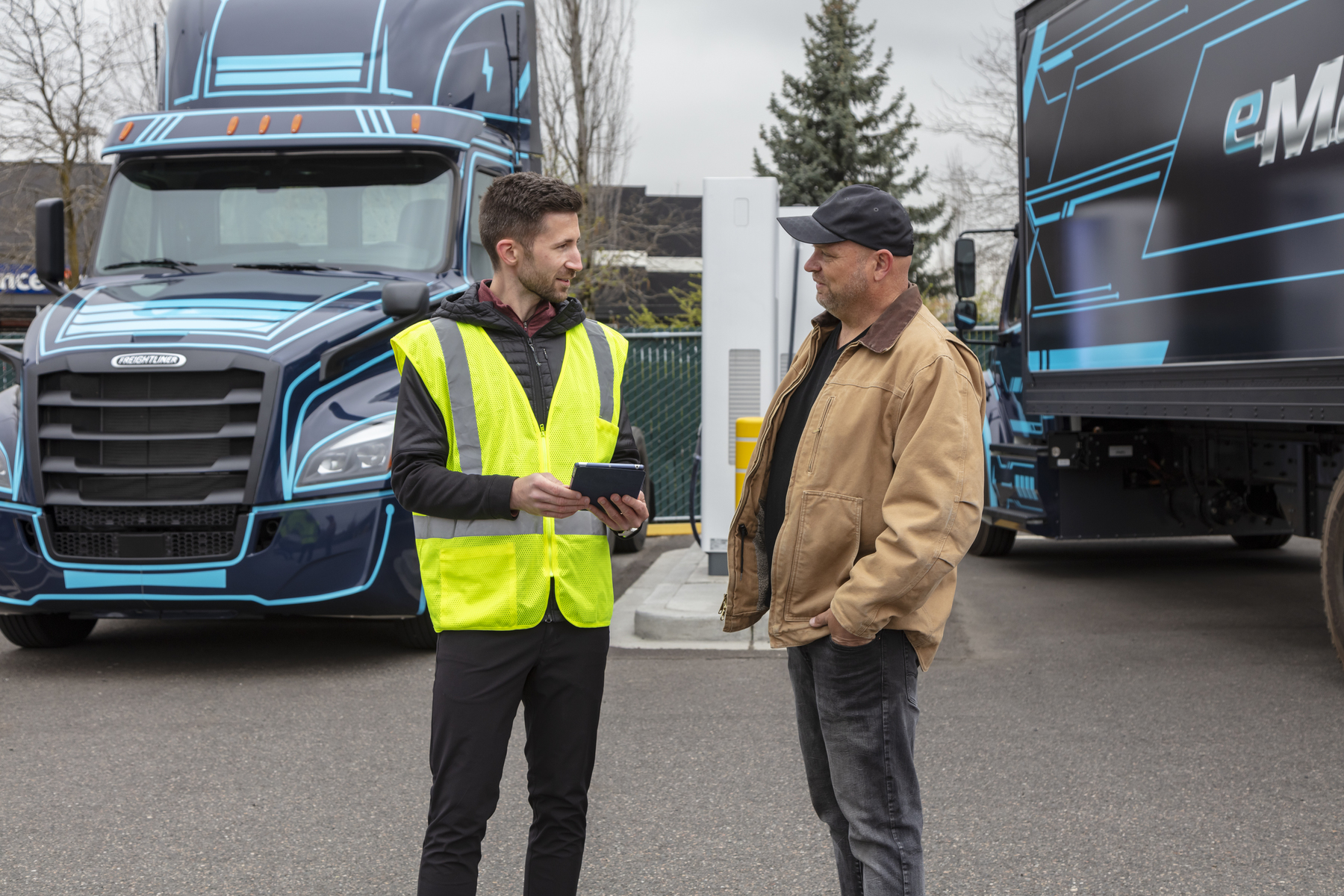 "It's really important to work with a team that understands the chargers and the vehicles and how they work together – and has the right partners in place to support the utility side and make sure that everything's going to come together properly. So that when you pull in your truck on that first day – after you've already spent months building up infrastructure – everything just works."
– Nathan Hill, head of charging infrastructure
Detroit eConsulting services span three core packages, but that's just the beginning. Each package is fully customizable to fit your routes and operational needs. Whether you run a fleet of Freightliner electric trucks, or EV fleet vehicles from different manufacturers, we can create a strategic blueprint that's in line with your goals and show you how to make it happen.
Power your fleet with proven electric truck charging stations.
Expertise is critical to getting your electric vehicle fleet on the road. However, choosing the right truck charging station is also essential. It makes sure that your solution doesn't just work, but works best for your business. That's why we built Detroit eFill chargers with proven, utility-grade charging technology to offer the highest level of dependability, even in the most extreme conditions.
Beyond being tough, Detroit eFill chargers are engineered to be smart. They use charge management software (CMS) that can enable smart charging for lower energy costs, and integrate all relevant information on EV fleet vehicles, charging stations, and the charging process into one simple interface.
Additionally, Freightliner electric trucks are developed and tested alongside our truck charging stations for maximum compatibility. As a result, our chargers are optimized to work seamlessly with a wide range of EV fleet vehicles, and can easily be integrated into and grow with your electric vehicle fleet.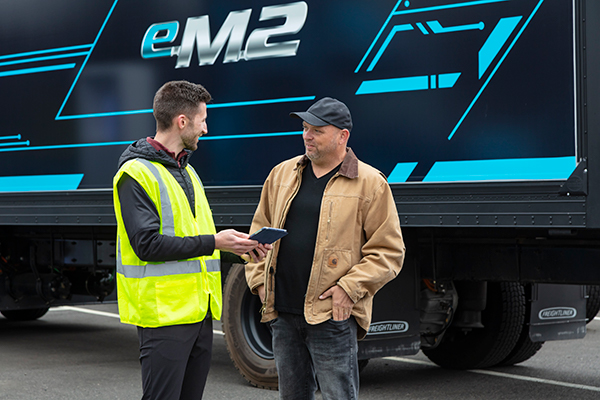 If you're not quite sure what type of truck charging station you're looking for, there are plenty of reasons to rely on Detroit's electric vehicle consultants. Nathan Hill, head of charging infrastructure, says it best:
"Instead of getting the biggest available charger, we can right-size the charger to a customer's specific needs to save costs not only on the equipment, but on the grid connection itself, and reduce the amount of real estate needed to support the charging infrastructure."
Ready to start thinking electric? Our electric vehicle consultants can help you get started with everything from a free consultation to a comprehensive plan.
Learn more about our eConsulting services and start your electric journey today.