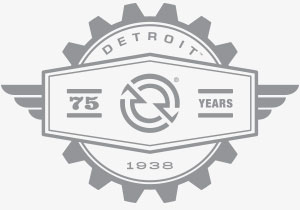 Seventy-five years ago, on March 6, 1938, the first Detroit engine rolled off the line. To celebrate, we're spending the next six months with a series of commemorative events and activities to help our customers Demand Detroit:
We are launching a Facebook application;
Our booth at Mid-America Trucking Show (MATS) will feature an interactive historical product timeline and a retrospective historical video told through the eyes of our customers, retirees, present employees, dealers and distributors;
At MATS, you can also see the full line of our drivetrain components: transmissions, axles, engines and Virtual Technician on display and ready to add efficiency to your bottom line;
Drop in to one of our Detroit engine dealers and authorized Detroit service locations to see our new signs, or visit our plant for special 75th anniversary giveaways. If you happen to be there on the right day in June, you'll see our employees enjoying an enormous 75th anniversary cake.
Stay tuned, the Detroit 75th Anniversary is sure to be a ride you won't forget!