The new DT12™ truck transmission will start production on May 1.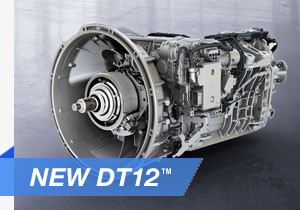 Pair your DT12 with the DD15® engine in the Freightliner Cascadia Evolution. Since it's an AMT, you'll get the efficiency and light weight of a manual transmission with the easy operation of an automatic.
This next generation of transmissions makes it easy to get on the road because it mimics the efficient performance driving style of the most seasoned veteran drivers. It also saves general wear and tear thanks to smooth pneumatic shifting and clutch work.
The DT12 will be available with torque ratings ranging from 1550-1750 lbs/ft in both overdrive and direct drive. A version for DD13® engines is available for order in July and delivery in October. 
Learn more about our truck transmissions using our interactive graphic.