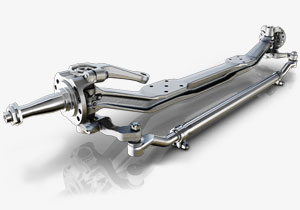 Our new line of DetroitTM truck axles is sold exclusively for Freightliner Trucks, Western Star, Thomas Built Bus, and Freightliner Custom Chassis. Our front axles are rated from 6,000-20,000 lbs and turn up to 55 degrees. They are built alongside our legendary engines in our plant in Detroit, Michigan.

Durable Design
Detroit truck axles' design makes them more durable and reliable, leading to less  maintenance and downtime. By using needle bearings (which roll) instead of   bushings (which rub and wear) we deliver a lower lifecycle cost. Our friction and thrust bearings ensure well-defined steering resistance and road tracking, eliminate steer chatter and wander, and significantly improve vehicle drivability. Our competitors consider bushings and king pins wear items, so don't cover them under warranty. We cover our bearings.
 A Lightweight Issue
Our unique I-beam shape provides strength in a lightweight design for higher  payloads. When the industry added 300 to 400 lbs. of aftertreatment to the truck, we responded with a unique 12,500 lb. truck axle rating. This way, there's no need to move to heavier and more expensive 13,200 lb. axle and wheel-ends.  We've designed it so you can move your trailer closer to your cab, improving your aerodynamics.
Finally, with the Detroit parts & service network, you'll be sure to find what you need over the lifetime of your axle.
To Learn more about our full line of Detroit truck axles, visit DemandDetroit.com.