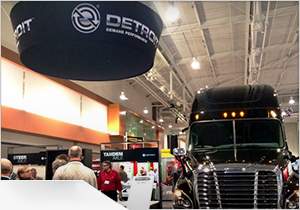 Recently, we attended the ATA Technology & Maintenance Council's Annual Meeting and Transportation Technology Exhibition (TMC) in Nashville, Tenn. The theme for the event was "Turning Experience into Practice," and brought together many of the top companies and names in the industry.
More than just a trade show, TMC is home to trucking's leading fleet professionals, vehicle manufacturers, and component suppliers.
It is one of our industry's leading forums for getting things done collaboratively.
Detroit made a strong showing that included our own Vic Meloche winning a prestigious Silver Spark Plug Award for his years of service on the TMC leading several task forces that formed TMC recommended practices, including Clutch Engagement, Diesel Exhaust Fluid and Diesel Particulate Filter.
Vic's ability to bring together competitors in a joint task force to better serve the industry is a tremendous accomplishment and we're all proud of him!
More than 100 task forces met this year to work on newly recommended practices. Two important sessions also highlighted the week: Fuel Efficiency and Vehicle Emissions Regulations and The Low Down on Low-Viscosity Engine Oils.
With a new round of emissions changes being considered for 2020, it was interesting to learn from the panel what these changes may mean. In addition, attendees were able get the low down on low-viscosity engine oils and what the new formulations will mean for their fleet operations.
Of course, it wasn't all business - TMC's annual banquet and reception featured music by Nashville icon Martina McBride! McBride, named Country Music Association's Female Vocalist of the year four times and has been nominated for a Grammy Award 11 times.
Overall it was a busy week packed with important sessions, revolutionary technology and top-notch entertainment. As we catch our breath, we prepare for another premier industry event – the Mid-America Trucking Show in Louisville, Ky. See you there!